The live streaming scene is a very big thing in the world of video games these days, mainly thanks to the likes of Twitch, and Valve are now getting in the action as well it seems.
You can now stream your gameplay directly to Steam, which will then allow everyone, your friends or just those you chose to watch the stream directly through their Steam client.
If one of your friends is currently playing a game then all you need to do is select "Watch Game" from the friends list or from their profile. All you need to do to get started is install the new Steam client beta update.
To try out Broadcasting now, both you and your friends need to opt into the Steam Client Beta. In the Steam client main menu, select Settings > Account and change your "Beta Participation" to "Steam Beta Update".
Here's a run down on how things work, for a more detailed list, check out the broadcaster FAQ.
Who can watch my games?
You decide. The first time a friend asks to watch your game you'll be presented with the broadcast privacy settings...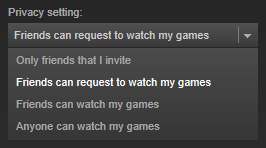 If you select "Anyone can watch my games" then your broadcast will be visible on that game hub.
How do I start & stop my broadcast?
When you're playing a game and someone starts watching, you automatically start broadcasting. When you end the game your broadcast ends.
And it is a simple as that, like I said, check out the broadcaster FAQ for more detail but that is about the jist of things. Let us know what you think to it as well!